People Analytics (also known as HR Analytics) is not really new but reflects a trend within the Human Resource department in the recent years. It is sometimes hard to catch up with new technology and Buzzwords. In People Analytics we may also talk about Machine Learning, Predictive Modeling, Blockchain or Organizational Network Analysis. Finding a better way using people's data to tell stories, answer questions and be aware of issues before they show up. In this article I want to get you settled with the terminology of People Analytics, guide through the challenge to start and prepare you for the future of People Analytics in SuccessFactors.
What is People Analytics
People Analytics is also referred to as Human Resource (HR) Analytics, Workforce Analytics, or Talent Analytics. People Analytics is about analysing an organizations' people problems using data.
People Analytics is not a completely new discipline in HR, but a fairly novel topic. It is still mostly unexplored in the scientific literature. Best known for the scientific definition of HR Analytics by Heuvel & Bondarouk: "HR analytics is the systematic identification and quantification of the people drivers of business outcomes" (Heuvel & Bondarouk, 2016).
Human Resource departments have long been collecting vast amounts of HR data in the past. This data is very sensitive and often remains unused. With the trend in the recent years this data is used more and more. The goal of People Analytics are not more Reports or KPI's, but finding ways to connect them, provide a story and answer questions.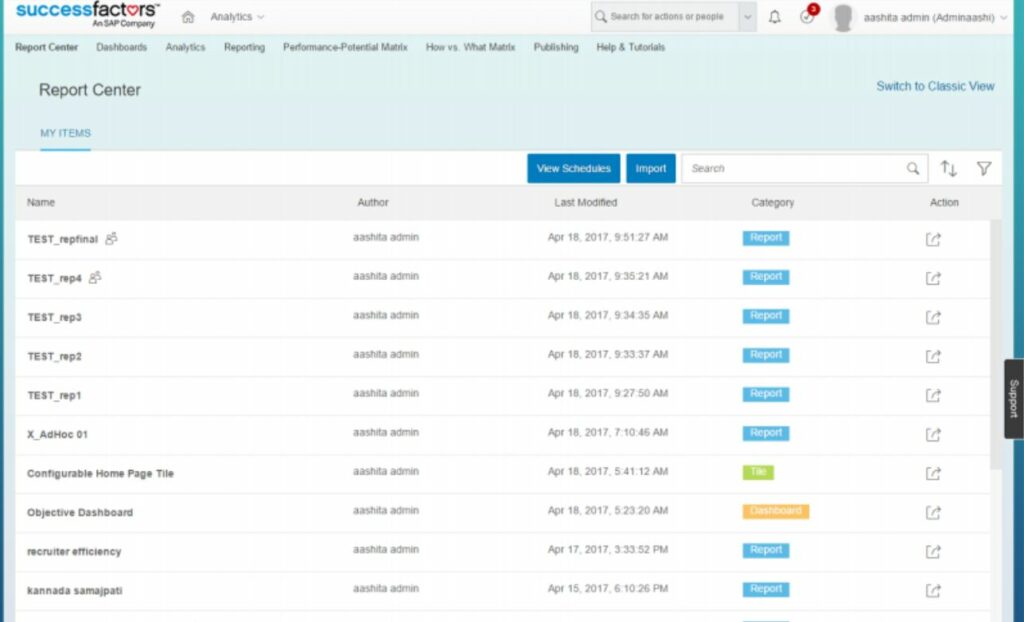 Source: Cascio & Bourdreau (2010, p. 10)
Following Topics/Tags can be related to People Analytics: Big Data in HR, HR Analytics, Data Warehouse for HR, People Data, Prescriptive Analytics, HR Analytics, Predictive Analytics, Big Data in HR, Diagnostic Analytics, Prescriptive Analytics, HR Reporting, HR Analytics, Talent Reporting/Analytics, Machine Learning, Predictive Modeling, Blockchain and Organizational Network Analysis
Challenge to Start
Every start is hard, but it actually doesn't need to be. You can start a People Analytics project from various points, but typically face similar issues at the beginning:
Analytical capabilities & knowledge about existing scientific evidence
Data quality
Data protection & legal requirements
Strategic ability to act
Finding the right people in your organization to help and leverage your first People Analytics is not easy, but possible. And no, you don't need to be a data scientist, but it helps to understand some basics. Find and address a very specific question which helps the organization to improve and can be measured. Make sure data quantity and quality is right! Some questions you could tackle: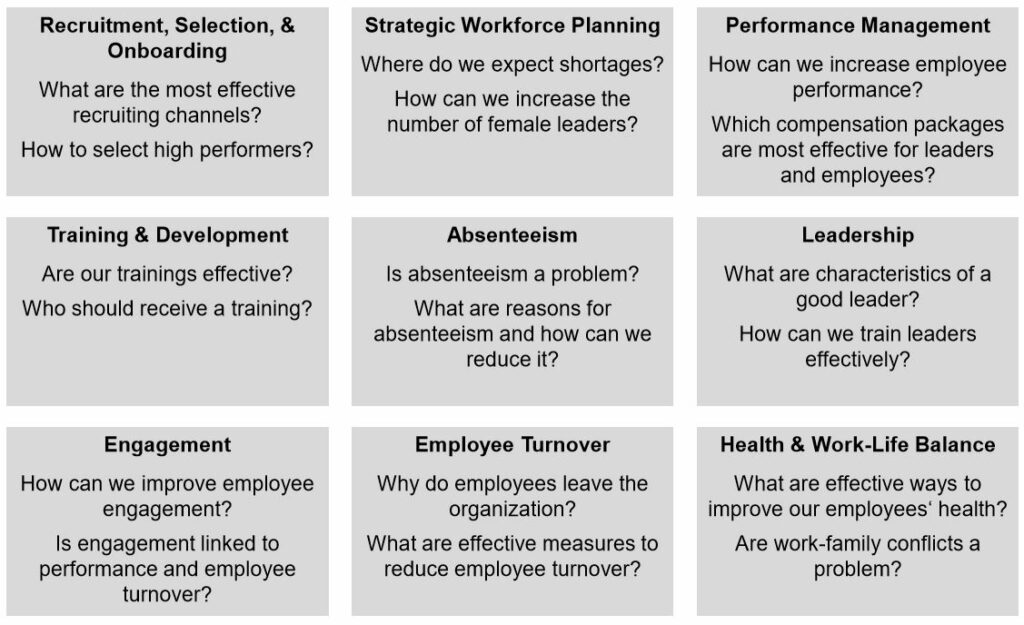 Source: OpenSAP Course "People Analytics and Evidence-Based Management"
After gaining confidence and trust within the HR department and stockholders you may challenge further questions. I highly recommend to get further ideas, use cases and more information in the OpenSAP Course "People Analytics and Evidence-Based Management". Also, in that course companies like Nestle, Bosch, SAP or Deutsche Bahn give you insights of their People Analytics projects and how they approached them.
Future of People Analytics in SuccessFactors
What does all that mean for SuccessFactors (SF)? In the recent years, most companies did operational Reporting and not much Analytics. Analytics, in SF context, would be Workforce Analytics (WFA) only.
Not to forget that most companies just moved into the Cloud anyway. Often, there are other challenges before and after the implementation of SuccessFactors. Operation reporting is just fine at this time. After using the system for a while (I would say a year) you might get a feeling for the system and want a more, but WFA on HANA was too expensive and big.
SAP Analytics Cloud (SAC) will be the first proper tool in SuccessFactors, which allows you to create stories in a manner we would expect from a People Analytics project. Don't get me wrong – with tools like YouCalc Dashboards and BIRT Templates you get powerful visualizing tools in SuccessFactors, but you either can't access them – YouCalc Dashboard Builder is just for SAP Partners or Professional Service Team – or you need to build up new skills/knowledge in your organization. SAC will surprise HR'ler by its simple user interface, usability, performance and variety of visualization.
Also note that in SAPPHIRE 2019 SAP announced a new product called SAP Data Warehouse Cloud. This new product is probably very similar to WFA on HANA in SuccessFactors or maybe even replace it – Speculation. Nevertheless, People Analytics is and will be a big topic in the SuccessFactors field for the coming years.
It is worth to mention X-Data here as well. With the acquisition of Qualtrics and its broad knowledge about Experience Data will play an important role in the future of SAP SuccessFactors. Combining O+X Data is literary everywhere to see now and we are all excited to see more.
Subscribe, Share and Ask – Thank you!
Please watch this blog closely and subscribe to get updates. We are working on a new articles and interviews with SAP to give you a clear understanding what is behind People Analytics, Unified Reporting, SAP Analytics Cloud and much more….
Please share this article to spread knowledge and give other SuccessFactors customers the chance to be fully aware of People Analytics and its capabilities in SuccessFactors.
Never hesitate to comment, give feedback or ask: chris.wilpert@orbis-people.de.
Thanks for your time and interest!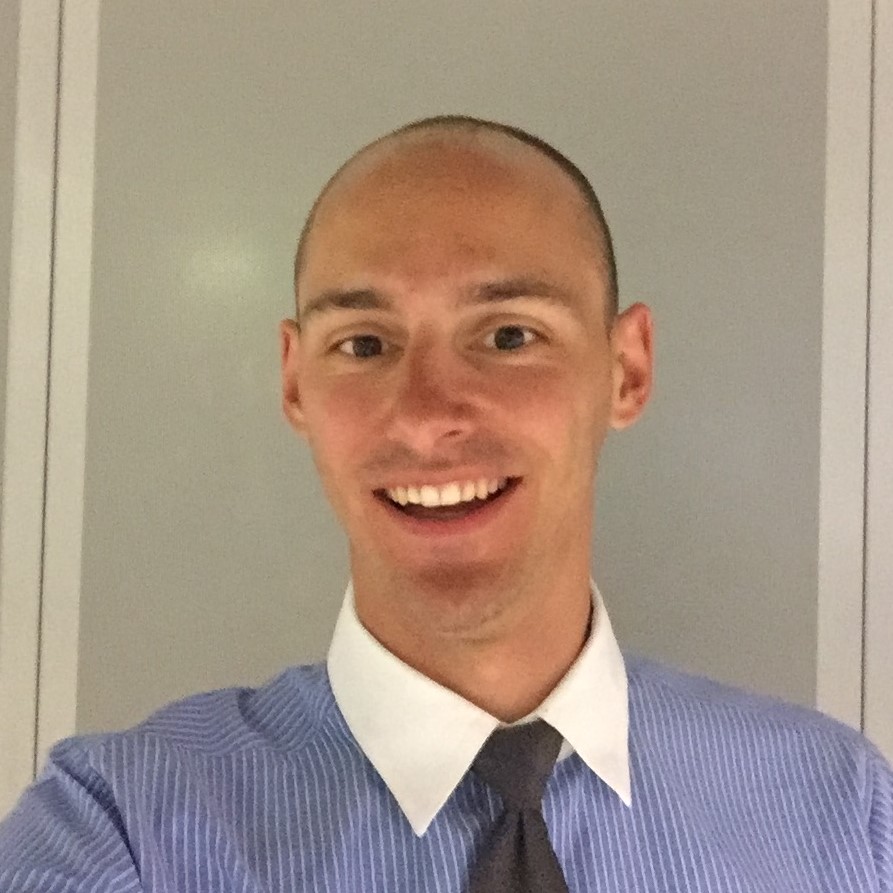 Mein Schwerpunkt liegt bei SuccessFactors RCM, RMK und People Analytics. People Analytics in SuccessFactors ist schon zu einer Leidenschaft geworden – in guten und in schlechten Zeiten. Seit 2013 in der SuccessFactors Welt. Ich bin immer offen für ein unverbindlichen Austausch.